Chinese customers? get ready for mobile payments
Mobile payments will soon overtake cash and credit cards as the preferred payment choice for Chinese travellers shopping abroad, according to a new survey.
Mobile payments specialist Cancan and financial research authority Kapronasia have published a global study, 2017 Mobile Payment Survey: Chinese customers Abroad, covering the impact of Asian mobile payment solutions at point-of-sale worldwide. Over 1,000  Chinese consumers and more than 60 C-level decision-makers from global merchant companies were surveyed.
Among the key findings, the study found that Mainland Chinese consumers expect to spend more with mobile payments such as Alipay and WeChat Pay this year and next year than in 2016 when travelling abroad.
Most Chinese customers (travellers) spent in the range of either US$393–US$786 or US$1,179–US$1,572 for retail purchases on their most recent overseas trip, the report found, while 5.7% spent more than US$6,288.
Some 67% of respondents reported that they use mobile payments overseas. When consumers were asked about their primary method of payment while overseas, mobile payments represented about 41% of overseas consumption.
Nearly half of the consumers surveyed made between 10-30% of their overseas shopping purchases with QR code-based mobile payment methods; one third of consumers paid over 50% of their purchases in China with mobile.
Alipay, WeChat Pay and Apple Pay are the most popular mobile payment methods. Over 75% of the surveyed merchants accepted Alipay. Over one third of merchants who do accept mobile payments indicated that it contributed to at least 3% or more of their global sales, with some experiencing a share as high as 15-25%.
Fashion and cosmetics/skincare are among the categories consumers were most likely to purchase with mobile payment.
The main reasons for not using mobile payments were merchants not offering the facility, as well as consumers' ignorance that it was possible to use mobile payments when merchants do offer it.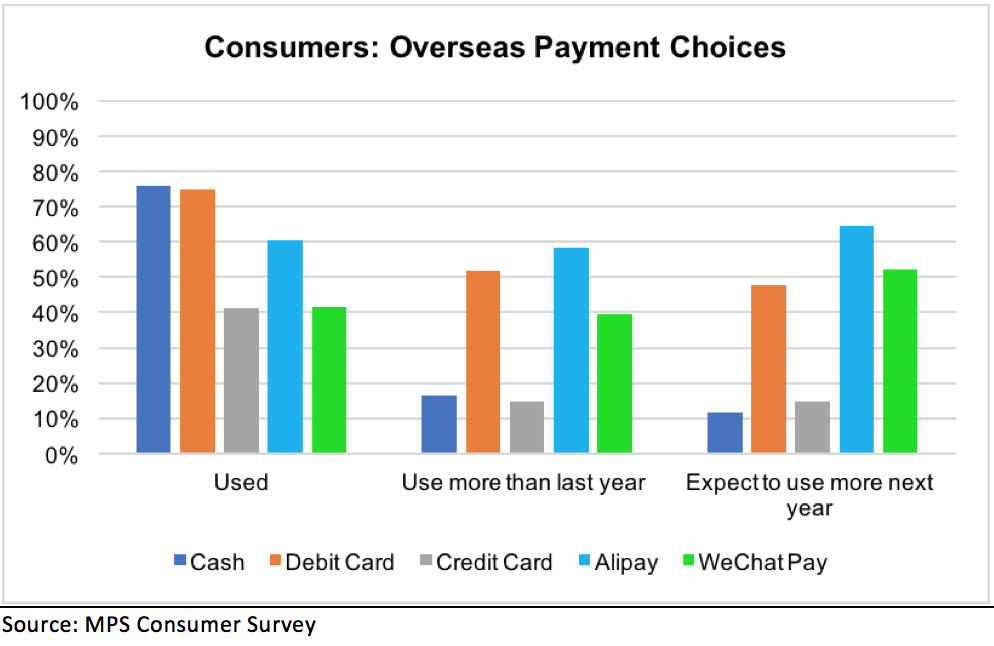 Leave a Comment
Your feedback is valuable for us. Your email will not be published.