The Chinese YouTube? Bilibili
The popular youth-oriented video streaming and sharing giant Bilibili is considered to be the platform most similar to Youtube. However, Bilibili's defining features and unique community culture differentiate it from its western counterparts.
in China, one out of every two young people is on Bilibili. Young people under 35 years old account for 86% of the platform's 202 million Monthly Active Users. This audience, with its growing purchasing power, has been a key focus for brands in China.
Engagement rates also benefit from this feeling of community: users spend more than 80 min per day on the platform, generating 4.7 billion interactions per month.
The platform offers social ways for audiences to be involved with the video content using its unique bullet comment feature, aka Danmu(弹幕).
Danmu (弹幕)" or "bullet chat": it is a form of video commentary used on online videos. Danmus are comments that appear directly on the video in real-time, sliding from right to left.
Some of the largest Chinese brands like Alipay weren't too late to tap on this emerging need for social interactions and develop more intimate ways to communicate with their customers on Bilibili. 
If you are a foreign business and want to reach out to the internet-native Gen Z audiences in China in a fun and unusual way, Bilibili can be a great place to begin
E-commerce integration
In order to facilitate the sales-driven collaboration between brands and KOLs, Bilibili published official KOL selection platform Huahuo (花火). Brands are able to measure eCommerce conversion driven by Bilibili KOL if they go through this official channel. There are mainly 2 ways to promote your product and measure performance on Bilibili:
Yaoyue (邀约), which means "invite" in mandarin. Brands can choose KOLs and confirm the collaboration through Bilibili official KOL platform Huahuo. KOLs can then insert eCommerce links below their video content, easily driving traffic to eCommerce store on Taobao or JD. Brands are able to measure the clicks and sales coming from each campaign. In order to garentee the collaboration quality, Bilibili also designed certain thresholds for KOLs to participate in this program:
Xuanshang (悬赏), which means "reward". You can understand it as a multi-brand eCommerce catalog on Bilibili. Brands can upload their products on "xuanshang" program, where Bilibili KOLs can voluntarily choose the products they want to promote and get a commission of 20%-50% (CPS). The product will be shown as a Dammu or icon during the video or live-streaming, or as a link below the video (see examples below). Xuanshang program is still a beta program, and is only open for KOLs with more than 10k fans in Bilibili.
The best practice is to consider your brand as a Bilibili influencer with a character and personality. Bilibili users love brands that are "real" and fun. By building a branded "persona", you can connect to Bilibili users as if you were making friends.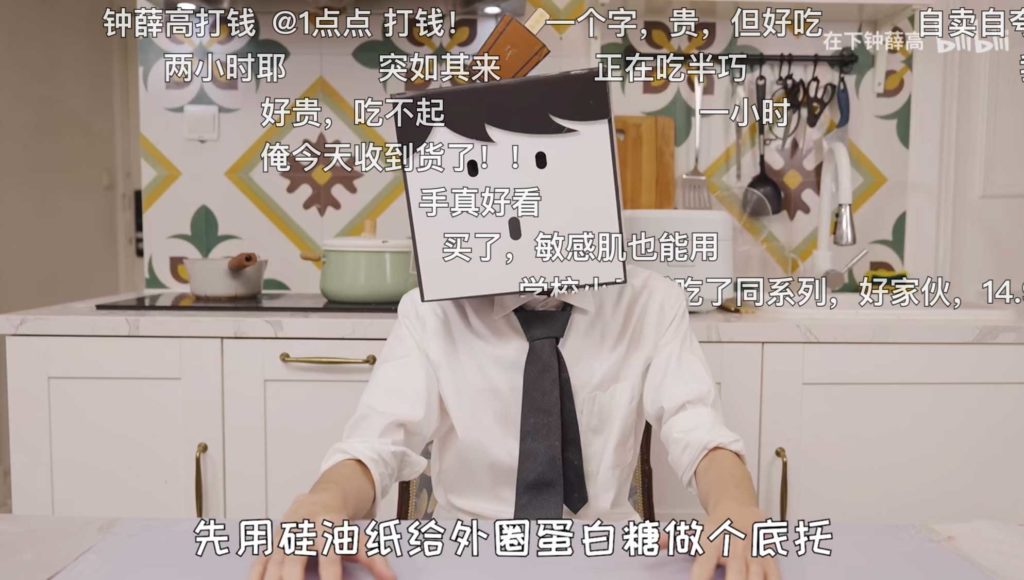 How much to pay for a Bilibili influencer campaign?
The cost of a Bilibili campaign in RMB is about 10% of the number of followers.
So a campaign with an influencer with 100k followers should cost you 10,000 RMB, or about 1,500 USD.
Use it as a learning platform
Chinese online consumers have very unique UI habits compared to their foreign counterparts. This usually stands as a roadblock for many SaaS companies who are unable or not willing to create a completely new interface for the Chinese market. You could use this issue to your advantage if you are willing to go the extra mile educating your users on how to use your products.
Know the Algorithm
A leaked document from Bilibili shows how the platform's recommendation algorithm works. In a nutshell:
Content Grade= ([coins x 0.4] + [favorites x 0.3] + [Bullet Comments x 0.4] + [Comments x 0.25] + [Views x 0.25] + [Likes x 0.4] + [Shares x 0.6]) x 1.5 (if the content was published within 24 hours)
Pay attention to how engagement versus views is weighted. Bilibili favors user engagement through likes, coins (basically a super like), favorites, and bullet comments more than other factors. Since advertising content on the platform is somewhat limited, encouraging your audience to interact more with you and your content is the most organic way to land your content on users' screens.
If you want to start on Bilibili please contact us
Leave a Comment
Your feedback is valuable for us. Your email will not be published.