Zhihu B2B strategy in China
Zhihu is a platform where companies can develop  B2B marketing strategies in the Chinese market.
Usually your customers will have a lot of questions on their minds. In China, the king of Question and Answer is Zhihu (知乎). It's like the Quora of China, and it's a must-know platform for B2B business marketing.      
This post will mostly focus on:
What is Zhihu?

Why consider Zhihu for B2B marketing?

How to do Zhihu marketing?
What is Zhihu?
The brand name Zhihu (知乎) in Chinese means "do you know?" Zhihu is China's largest Q&A platform that feels a lot like Quora but maybe we should point out that Zhihu is like a "knowledge-sharing platform for experts" with some features.
Zhihu is profoundly known for its high quality, credible, and professional Q&A content. This reputation is what makes Zhihu different from other Q&A services seen in and out of China. When launched in 2011, Zhihu began as an invitation-only platform. Only verified experts and professionals from various fields who were invited by referrals were allowed to join the closed community at first. Zhihu then opened-up the service to the general public in 2013 with a strict personal profile verification and badge system (a reward system where users earn badges based on their activity). This way, Zhihu grew its user base while being able to maintain a high-quality of content and a knowledgeable user base. At the same time, the platform also began to function a lot like LinkedIn, allowing expert users to connect with each other and post content on a regular basis.
In 2016, Zhihu began to build a base of "brand accounts" and drive initiatives in the pay-for-knowledge market in China. Many different subsections of the platform, such as Zhihu Column or Zhihu Live, allow users to create, acquire, and share in-depth insights on various topics. The platform also started a membership program to offer more exclusive and high-quality content for subscribed users.
Zhihu is continuously growing. As of January 2019, Zhihu had 220 million users and 30,000 official brand accounts. The platform has successfully raised a total of $889 million funding over 7 rounds, including the recent $434 million investment from Baidu, and is also awaiting its IPO.
Why Consider Zhihu for B2B Marketing?
Zhihu is a viable option for B2B marketers because it has a higher-end base of users that are in the mindset to research solutions for their problems. Plus, it is a tool that marketers can use for both branding and lead generation.
Partly influenced by its genesis with «invitation-only» access, Zhihu was able to acquire users that are highly educated, with lofty incomes and powerful purchasing power. Official data from Zhihu states that around 48% of its users are from first-tier cities, with 98% of users above 18. As for their background, 80% of users hold bachelor's degrees or above (iResearch, 2017), and 76% make more than 10,000 RMB a month (c.f. average monthly salary in major cities nears 8,500 RMB). This type of user base is the main reason why the platform has accumulated such a vast amount of user-generated content in industry-specific topics. In fact, since Zhihu users are more keen on obtaining particular knowledge, brands in specific industries can expect a higher interaction rate from the audience as compared to Weibo or WeChat.
Zhihu is also a great tool for both digital marketing and branding activity. Branding is often neglected by B2B companies. It can be considered a luxury due to the B2B companies' habit of placing more focus on sales performance. Not to mention, the lack of effective B2B channels has always been a barrier for many. However, at least in China, Zhihu can be a solution to these marketing obstacles.
One of the many advantages of Zhihu is that you don't need to worry about catchy banners or small budgets, because the knowledgeable answers and professional content speak for themselves. Of course, the right content strategy is necessary if you expect positive results.
Amazon Web Services (AWS), a company that offers cloud computing services, is one of many B2B tech brands that is making good use of Zhihu. Cloud computing services are one area that requires customers to have some basic understanding of the technology before being able to determine the competitive advantage of different companies. Knowing this, AWS is using Zhihu's Q&A feature as a way to educate the audience about cloud computing as well as generating a buzz about the brand. For example, the brand has answered questions such as "The 5G era is coming. What changes can be projected in the cloud services industry?", "I purchased a cloud service; what kind of services can I do with this?." AWS' posts not only answer specific questions, but also show their expertise in the area and even educate readers on the advantages of its services – all while not reading like a pushy ad. On their brand account page, AWS also engages with audiences by sharing more in-depth industry-related articles.
Q&A MARKETING CAMPAIGN
There are at least two ways to go about it. Brands can search for questions that are answerable – a good question is one that allows the brand to educate the reader, show their expertise and promote brand values. Q&A marketing can be especially effective for products that require an in-depth explanation to persuade readers even to consider using the product.
For instance, global car brands are frequently seen using Q&A marketing at Zhihu by answering questions about car components.
Another way is for brands to create a discussable topic and lead users to answer it. This is a way to generate interest towards the brand.
For example, Johnson & Johnson's contact lens brand "Acuvue" asked users about their experience with poor eyesight. After the users answered, Acuvue also joined in the discussion sharing tips on how to improve vision care in daily life.      
Similarly, Huawei asked users "how does it feel to trust someone?" Later on, Huawei's subsidiary company "Huawei Cloud (华为云)" joined in sharing their experience of building trust with partners as a cloud computing company. Here, Huawei Cloud used this question as an opportunity to build a reliable brand image by sharing their experience.
WRITING FOR ZHIHU
Learning to write content that resonates is extremely important. The writing style used for Weibo or Xiaohongshu won't work. Brands should be authentic and show some personality, but most-importantly provide thorough and useful content.    
It is crucial to actually answer the question before pushing brand messages on the audience. Brands should also try to write their answers in an organic voice while citing reliable sources; the copy-pasted information is not liked by the users. Plus, choosing a casual and conversational tone and manner is another tip to engage with the audience.           
Besides, there are two types of answers that tend to rank higher on Zhihu. One type is long and high-quality content covering the topic from various angles; the other is very short, two or three sentences and straight to the point. 
Zhihu is clearly a user-generated-content platform. Therefore, brands should be aware that messages that seem too promotional or pushy may not resonate with the audience. It's critical that brands offer useful information that is needed by the targeted audience on a specific topic or field.
As for the questions, it is important to ask open-ended and not-too-complex questions on Zhihu to encourage users to answer. They may be very specific and directly related to your products. Questions such as "How do flowmeters work?" are often seen on the platform. So are extremely weird questions that are usually taken seriously and answered with the full engagement.
So, you can make it simple. Or, you can get extremely creative, with both the questions and the answers.
BUILDING BRAND REPUTATION WITH ONGOING MARKETING ON ZHIHU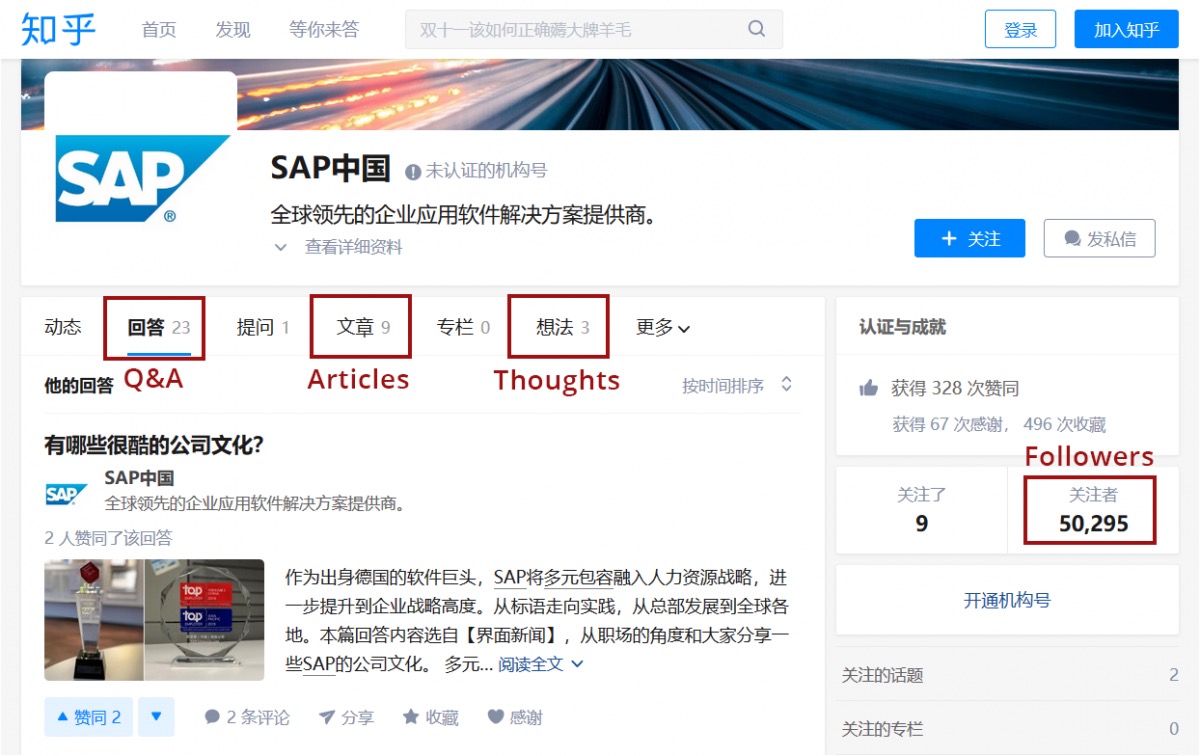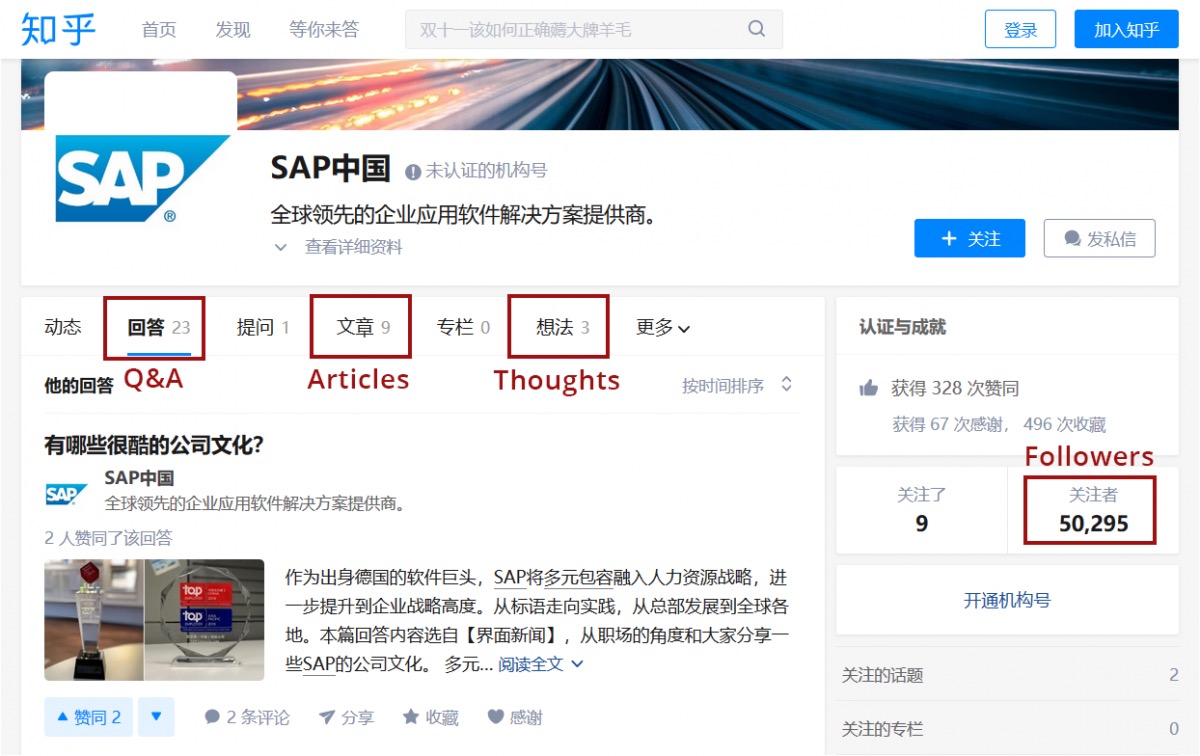 Brands and individuals can become an industry's key opinion leader on Zhihu by actively creating valuable content and executing organic marketing activities. It is something that the platform wants the users to focus on at the moment. In fact, it is similar to managing official brand accounts on LinkedIn. The common process is to engage with the industry audience by actively participating in Q&A. The better the quality of the questions and answers are, the more the account can benefit by increasing its brand awareness and building customer engagement in the targeted area. Brand's Q&A participation is very important, also as it can act as a traffic driver to the brand's account page.
Similar to LinkedIn, brands can create professional blog-like space by posting longer articles that talk about the industry. Creating casual blog posts and in-depth articles allow audiences to get to know the industry and the company better. B2B brands tend to use Zhihu as a channel for branding and showing expertise by sharing the industry-specific news and information in general, whereas B2C brands tend to use it more commonly as a tool to talk more in-depth about their products, or casually participate in a discussion. 
HOW TO CREATE A BRAND ACCOUNT ON ZHIHU
Zhihu only allows enterprises with a Chinese business license to register a verified brand account. Even so, foreign brands can start Zhihu marketing by using a personal account. Zhihu accepts personal accounts regardless of nationality. Therefore, many small-to-mid-sized companies choose this option as a way to market their company on Zhihu.
The account setup will require an email, phone number and a passport scan of an owner or a manager. The account can carry the brand name or the individual's name. The latter should still include the company's name, job position and relevant experience in the bio section. This serves the company's purposes- it is like creating a brand ambassador on Zhihu. In a way, personal accounts can help a brand engage with audiences with a more natural and personal approach.
However, please note that for personal accounts, there is also a risk of content or accounts being deleted when content feels too advertorial. Additionally, those accounts also lack certain features and functions that are available to company accounts.
ZHIHU VIP ACCOUNTS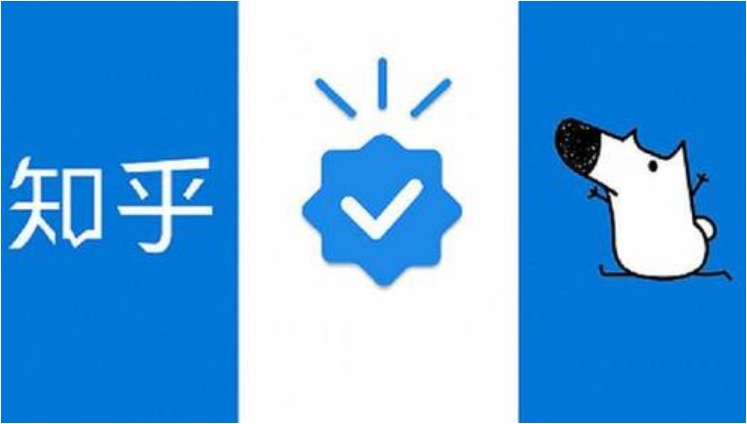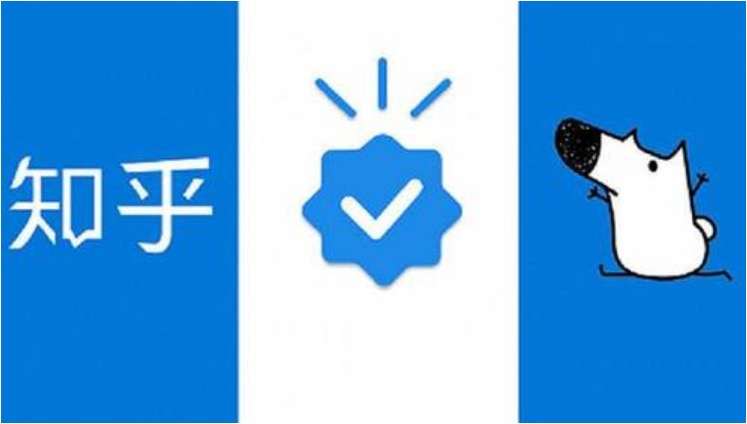 What else can be done for leveraging brand awareness? Brands can also be featured in "Zhihu Weekly (知乎周刊)". This section of Zhihu aims at promoting in-depth content. It can be described as an e-magazine formed of a collection of high-quality answers.
To get featured, an account has to be upgraded to a higher-level of VIP membership and publish high-quality content on an ongoing basis. It is up to the platform what accounts are included in the Weekly magazine. However, there's an option of paid sponsorship.
Qualcomm, a US-based semiconductor and telecommunication equipment company, is often mentioned as a success case of using Zhihu Weekly. Qualcomm, in this case, sponsored an issue of the magazine in which the main theme was about the development of telecommunication. Qualcomm then highlighted the issue by writing an article about their role in the upcoming telecommunication era. The magazine was a huge success as it received positive feedback from the readers and was read by more than 47,000 users.
There are also other features accessible for various levels of VIP accounts (seven of them in total). You can either gain or pay your way up top. For instance, verifying your company account with a Chinese business license for 300 CNY/year leverages the account to the third level. But, you can pay up to 4,000 CNY/year to upgrade the account.
The benefits are, for example, increasing the number of articles published per week, creating your own "Thoughts (想法)" or unlocking "Zhihu Column (知乎专栏)". These are good ways to increase the number of touchpoints between your content and users of the platform.
ZHIHU LIVE-STREAMING
Zhihu also has a webinar-like live-service. This service allows brands to discuss industry-specific topics by showing online presentations. The live chat function is also available for this service, therefore brands and participants can enjoy the interactive discussion. Brands can choose to host a live stream presentation for free or with a fee.
For now, only audio versions are available, but on October 11th of 2019, Zhihu announced the release of a new service called Zhihu Video Live-stream. Though the video live-streaming feature isn't something new to Chinese users who are already spending a good bit of time on video streaming platforms, it is expected that Zhihu will be able to attract users who have been demanding video live-streaming for professional content. With its professional tone and manner, Zhihu is poised to become China's leading platform for knowledge sharing live-video content.
It also brings the written discussion live, as it provides opportunities for the audience to interact with the host. One of the possibilities is a fan-favourite bullet commenting.
The Zhihu Live-stream is currently available to a few invited brands. Though the date is uncertain, it is assumed that the service will soon be expanded to general users. Becoming one of the pioneer brands or users to use the new video live streaming service may bring about new opportunities to gain niche followers and brand reputation.
INFLUENCER MARKETING ON ZHIHU
Another way to approach marketing on Zhihu is posting with accounts that have already built a certain following in the niche. Working with industry/topic-specific influencers, commonly known as KOLs (key opinion leaders), is a great way to break through to the desired audience.
Producing articles and columns about a topic is more common than using the Q&A feature when working with influencers on Zhihu. Therefore, it is important for brands to look for those who have a high engagement level and those who can best deliver industry-specific content to the desired audience. Content quality and resonation with the audience are also other key points that need to be considered.
USING ZHIHU FOR SEO (SEARCH ENGINE OPTIMIZATION)
Now, you've created all the high-quality content. Are there any hidden benefits of your hard work? What if it worked for SEO as well?
Due to its reliability and high-quality content, Zhihu posts show up near the top of the page for organic searches on Chinese search engines. They often tend to rank higher than a brand's website.
That said, just by strategically managing Q&A content on Zhihu, brands can also leverage their organic results for certain keywords and phrases. Proper management can help brands receive exposure on multiple search platforms without spending more on search advertisements. On Zhihu, published articles can also link users to the brand's official website. This helps direct user traffic to the right places and yields better results.
ZHIHU'S PAID ADVERTISEMENT
Not a great content creator? Or maybe you're looking for a more direct and faster approach? Using various advertising packages is also another way to do marketing at Zhihu. It offers pop-up ads, banner ads, and newsfeed ads. Paid advertisements can sometimes bring more immediate reaction than Q&A marketing as it clearly exposes the brand to the targeted audience. Therefore, when paired with quality content, it may be an efficient way to increase brand awareness and drive users to take a specific action. Brands can select different packages of bids, including CPM, CPC or OCPC, depending on the goal.