Campaigns for museums in China: Douyin and NFTs
Museums around the world are targeting the Chinese market despite the Tourism breakdown. Whit the hope of coming back to normal, Museums are starting new campaigns on Douyin and Live-streaming apps with a view of engaging with the future visitors from China.
Today, most respectable art museums targeting China engage in a balancing act, both trying to profit from viral trends and provide art education to the public (or at least make it more accessible). But that involves catering to what the public wants, which can be vastly different from the high-brow gallery tradition.
Results: Tens of billions of people visit the museum on Douyin
To promote an exhibition on Italian artist Maurizio Cattelan, the UCCA Center for Contemporary Art in Beijing (which has a target audience of 25-to-35-yearolds) challenged Douyin users to video themselves "Killing a Banana" (based on Cattelan's most famous piece of an ordinary banana gaffer-taped to a wall), and gained 100 million impressions on the app.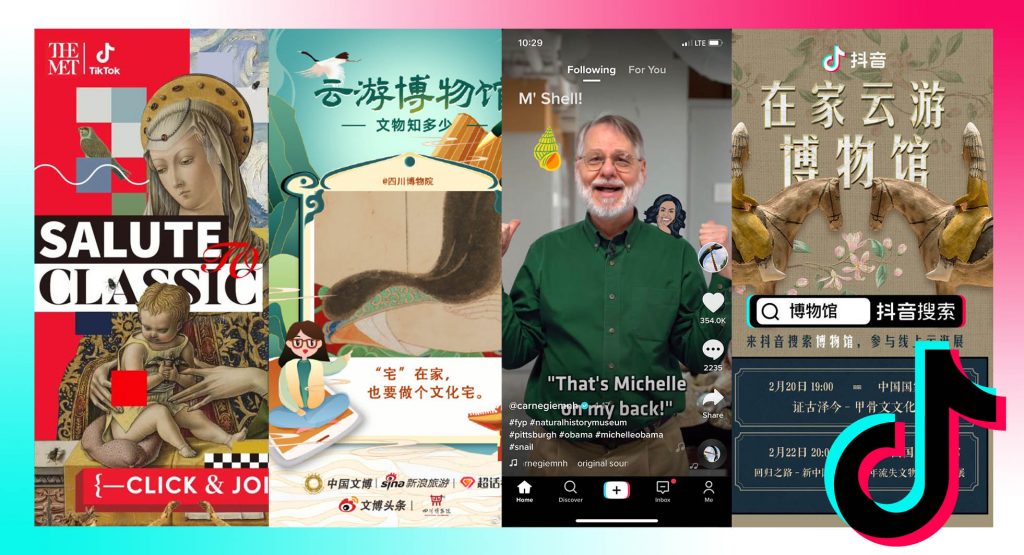 On the other hand, we should point out Museum NFTs campaigns in China.
Even if it is forbidden trading with NFTs, users are very eager to buy it as collectibles.
Non-fungible tokens (NFTs) associated with China's cultural relics are heating up in China, gaining increasing popularity among the country's younger generation in particular.
Built using blockchain technology, NFTs typically refer to those digital assets that can take the form of virtual trading cards, images of physical objects and more. Many Chinese museums such as the Palace Museum, National Museum of China, Hubei Provincial Museum in central China's Hubei Province, and Hunan Museum in central China's Hunan Province have launched NFTs inspired by the cultural relics they house in their collections. Statistics show that 44.11 percent of the cultural relics included in a national survey in China have been tokenized, among which 67.82 percent are considered highly valuable ones.
Besides, NFTs allow younger people to appreciate the country's fine arts at an affordable price. Bought and appreciated online, they match the shopping and social habits of the younger generation in China.
According to a report released by the Central University of Finance and Economics last year on how blockchain has helped revive the country's cultural relics, China's digital collectibles present many advantages. First and foremost, such NFTs represent a form of cultural consumption that is within China's regulations and can be regarded as certificates of ownership for virtual assets in addition to being fully traceable.
Leave a Comment
Your feedback is valuable for us. Your email will not be published.