Chinese rich consumers move faster
How the Chinese rich consumers Spend Differently
There are currently 1 million Chinese people and 5 million Americans with at least 1 million USD in assets, or what the luxury, property and financial industries classify as "High Net Worth Individuals." These HNWIs are a lucrative segment and one where brands are eager to increase their marketshare.
The wealthy in these nations have benefited from the rise in the economic growth in their respective countries, but also from the cultures they have been brought up in. In China, wealth accumulation practices, hard work ethics and striving for a better life have been ingrained in the Chinese psyche.
The statistics reveal a lot. In 2016, the Chinese contributed to 30% of global personal luxury goods sales, the Chinese made up 3% of the global personal luxury good sales in 2007.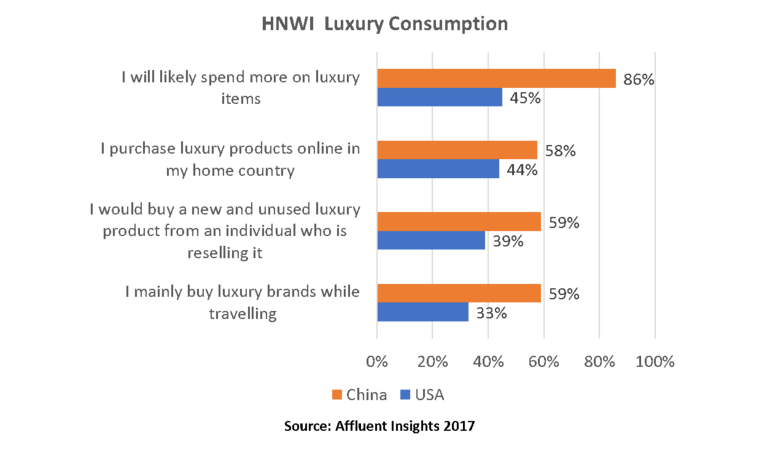 Chinese rich consumers are far more likely than American HNWIs to prefer purchasing luxury products online, while they are travelling, and are much more willing to buy luxury items from the grey market.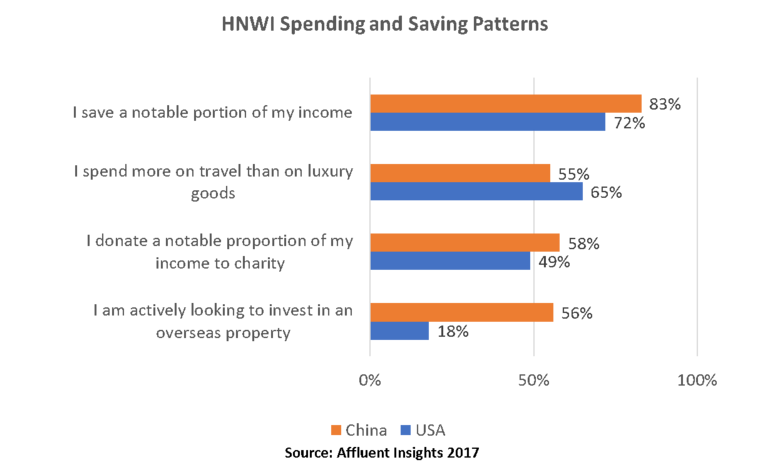 Chinese rich consumers spend more on travel than on luxury goods, and donate a notable proportion of their income to charity.
About brands:  Ralph Lauren, Coach, and Calvin Klein, as American brands, make up the top luxury fashion brands owned by American HNWIs. On the other hand; Chanel, Dior, and Armani make up the top 3 luxury fashion brands owned by Chinese HNWIs.
Moreover, you can see Prada and Gucci that are among the top 3 brands planned to purchase in the next 12 months.
Another input we discovered is that Chinese rich consumers contribute 12% of sales by Chinese personal luxury goods consumers, meanwhile American HNWIs contribute to 24% of sales by American personal luxury goods consumers, a major difference in the demographic makeup of luxury consumers. This is a crucial tip for brands that they need to pay attention to when building their strategies in these two different markets.
What does this mean for high-end brands that want to go to China?
By 2030, China will take the number 1 spot in the global economy in terms of Purchasing Power Parity, replacing the United States which will take the number 2 spot.
Due to China's population size and growing economy, there is no doubt that Chinese rich consumers will be the main consumers of luxury goods in the future, trumping spending by American consumers by the billions.
Local fashion brands dominate the American market, while European brands dominate the Chinese market
Leave a Comment
Your feedback is valuable for us. Your email will not be published.