o2o strategy – the way to connect to Chinese Tourists
O2O, which stands for Online to Offline (or, sometimes Offline to Online) has been one of the hottest topics in marketing in the last couple of years. It has been identified as a trillion dollar opportunity by TechCrunch.
O2O in China has been growing by leaps and bounds and is getting ahead of most other markets.
Basically, anything in the digital world that brings customers to the physical stores or makes them buy products and services that are traditionally sold offline can be classified as O2O.
According to the recent report by McKinsey on O2O in China, it has been growing the fastest in 3 areas: travel, mobility and dining services:
China O2O in travel sector
McKensey's data indicate that travel is one of the most popular O2O categories used by 36% of O2O consumers nationwide and 56% in Tier 1 cities: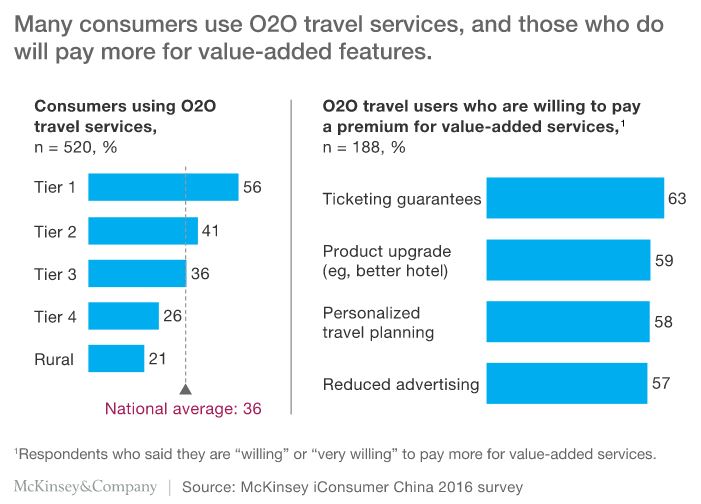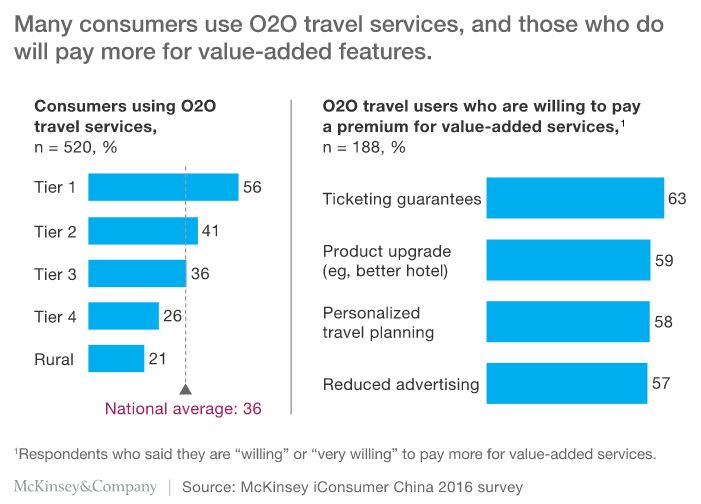 This segment is lead by companies like Qunar, fast growing Baidu online travel service as well as Ctrip, another hugely popular site. Customers also expect O2O travel service to cost less than the traditional ones putting more pressure on providers.
What are the main reasons behind the strength of O2O in China?
#1 number of smartphones
Large number of smartphones in China is the primary reason for O2O services getting a strong foothold. There are estimated 563 million smartphone users in 2016 representing more than a quarter of users worldwide.
#2 Have we mentioned smartphones?
Another factor in favor of O2O in China is the fact smartphones has long become the primary device of getting online for the majority of Chinese, beating desktops and laptops 2 years ago. Since large part of O2O's appeal is location, mobile is a natural fit.
#3 Mobile payment systems
Proliferation of secure and convenient mobile payment systems such as Alipay or WeChat wallet has become the industry enabler. In this regard, China is well ahead of most other countries.
#4 Everyone loves QR
QR codes can be used in many creative ways to facilitate O2O based connections and, incidentally, they have been extremely popular in China. While QR codes have been declared dead in the West on more than one occasion, they have been embraced in China and popularized by apps like WeChat.
O2O (Offline to Online) features
Incentivise Chinese tourists to visit and purchase from your bricks and mortar stores. Enable repeat purchasing.
Talking about eCommerce:
O2O (online-to-offline) will dominate the consumer experience. By 2025, a Bain & Co study shows that 100 per cent of Chinese consumers will seek inspiration online before purchasing offline.
We anticipate 2019 to be the year that overseas retailers close the loop between online and offline with travelling Chinese consumers – adopting mobile payment options, offering in-language customer service, deploying innovative customer experiences and creating branded gamification to connect with these global consumers at the point of purchase.
Unique products not available in China will outsell products that are more broadly available. As price disparities narrow, Chinese travellers are not only motivated by price, but are seeking unique products not available in China when they shop overseas.
Whether these are limited edition products from top global brands, niche brands not yet in China or local products from museums or local artists, Chinese consumers will gravitate towards hard-to-find products to take back to China.
Chinese apps will continue to expand their location-based media and advertising options. As platforms from WeChat to Dianping enhance their location-based media targeting capability, brands and retailers will increasingly pinpoint consumers before, during and after their travels, allowing for more targeted messages and engagement with these consumers.
We expect brands and retailers to become more sophisticated in reaching these consumers with relevant, focused messaging throughout their travel experience.
Little Red Book will become an even more integral part of customer's overseas shopping research. In addition, the platform's most recent tie-in with Taobao will make their social content even more directly linked with e-commerce.
We believe that brands and retailers should be scouring Little Red Book and other travel and shopping forums to understand what Chinese consumers really think of them.
Brands will increasingly collaborate with Chinese celebrities and key opinion leaders (KOLs) to develop products and experiences.
Brands and retailers can no longer sit back and wait for Chinese tourists to come to their destination and buy their globally hot-selling products. They have to actively court this consumer and create connection points for new collections and products.
Celebrity and KOL collaborations remain the most direct path to make these connections. As research firm L2 found, social media posts on Chinese platforms that mention a celebrity account for 96 per cent of all fashion brand engagement on Weibo and 88 per cent of watch and jewellery engagement.
Do you want to connect to Chinese consumers through a 020 strategy?
Leave a Comment
Your feedback is valuable for us. Your email will not be published.