Your landing page in China
Launching a product or service in China? no Chinese website?
No worries
Jimuyu is a great way of helping advertisers in presenting what they wish to promote to the Chinese market, and for the companies that does not have a Chinese website, it can be a replacement of your website, simple and efficient. Not only that, Jimuyu can also help to obtain leads and track data (such as numbers of impressions, clicks, submission, video played, etc…).
Choose from more than 1,000 themes from various industries, blog sites, stores, app downloads, video streaming, and more. Easily run marketing tactics like PPC ads, track conversions, and analyze the results.
Hosting your landing page on Jimuyu comes with several benefits:
Landing pages hosted by Baidu, in China, which means improved loading speed compared to most foreign-hosted websites.
Getting a page approved takes a lot less time than filing for an ICP licence. (Hours to a few days, as opposed to multiple weeks).
Mobile-optimized, customizable templates for HTML5, multi-page, mini-program landing pages.
Some recommendations:
Be mobile-first
Use the Call to Action (CTA) plugins to suit Chinese consumers. These include "click to download", "Call now", "Chat now" (more on that below), contact forms, e-commerce checkout, and "follow on Wechat".
Offer live chat functionality
By offering live chat on the landing page and/or via WeChat, you can expect your conversion rate to increase by about 3X compared to if you only used a contact form.
So, which advantages does a page offer, which is built with Jimuyu?
No extra fees for setting up your landing pages
Build a landing page easily and quickly with thousands of themes to choose from
Faster content approval compared to a self-hosted site in China, where the government will check your content
Super-fast loading time of the landing pages as they are hosted on Baidu servers in mainland China
Can reduce the cost per conversion by 85%, according to Baidu
Can increase the conversions by 118%, according to Baidu
We can confirm that Jimuyu provides better overall performance as customer sites are typically hosted outside of mainland China and have a longer loading time, which makes Baidu PPC even more challenging, and the use of Jimuyu is basically a must.
Besides, if you don't have a website or online presence in China yet and focus on selling your products and services via Chinese social media sites, the Jimuyu page builder also comes in handy.
If you want to target Chinese consumers, please contact us! we will be more than happy to help your company.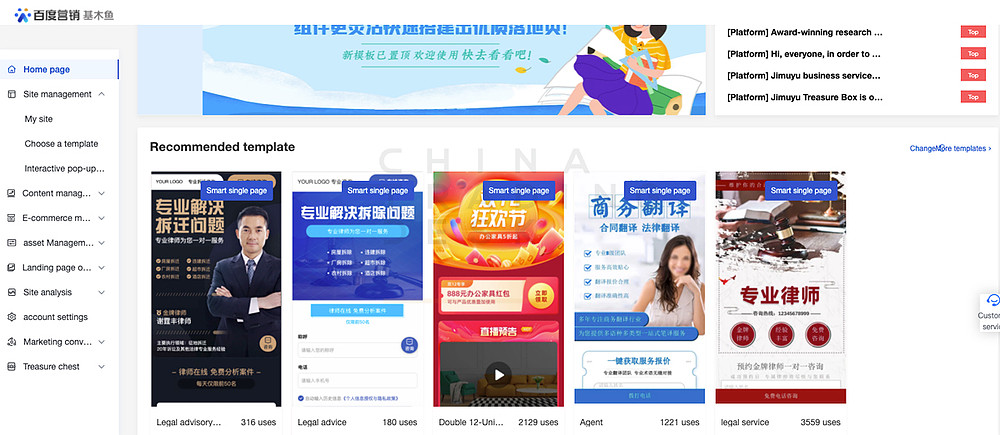 Leave a Comment
Your feedback is valuable for us. Your email will not be published.